I WILL NEVER BE THE SAME...Three Things I learned From The Woman Evolve 2018 Conference That Changed
Listen...this past weekend I was blessed to be able to attend the #WomanEvolve18 conference in Denver, CO hosted by Pastor Sarah Jakes-Roberts. In the words of Sarah, "Chillleeeee I will never be the same!"
First, let's get into the fact that Denver, CO is such a beautiful place. My first time there, I found out pretty quickly how out of shape I am and why they call Denver the Mile High City at the same time. Getting off of the plane and stepping outside of the airport, my breath was immediately taken away, not because of how beautiful the city is but how high in elevation the city is which literally took my breath away. Denver, CO is known as the mile high city because it is approximately 5,280 feet above sea level which caused me, this little ol' TN chick to get light headed quickly. Other than fighting to breath, I was really impressed by Denver, more specifically, the architecture was really awesome to see and the food was great as well. My favorite place to eat this time around was the Denver Biscuit Company. Yummmm, just thinking back to it makes my mouth water. That soft biscuit filled with chicken, fried egg, cheese and covered in gravy...nom nom.
Sorry, I got off track, food tends to have that effect on me. Okay, back to how this awesome conference literally blew my wig back, shook my edges, and my soul at the same dang time.
So let me give you a brief overview of what the conference was about:
The Woman Evolve conference was two days filled with inspirational, empowering, and spiritual sessions and services. There were speakers and session leaders from all different industries and backgrounds. From night stretch yoga sessions, pajama panel jam sessions, fashion, business, and so much more. If you had a need, there was someone who could help meet it. Some of the speakers, panelist and session leaders were, Michelle Williams of Destiny Child (she actually got sick and didn't get to make it.), CNN political commentator Angela Rye, Stylist, Jason Bolin (known as J. Bolin), and successful entrepreneur and girl CEO Ronne Brown.
So, as you can see, this thing was shaping up to be a good time but nothing could prepare me and my 2100+ other #womanevolve sisters for what we would experience. I went to the conference expecting a breakthrough but what I got was broken free from some baggage that I was carrying. I didn't realize when I got on the plane that I was carrying so much baggage in addition to my luggage. I knew that God was directing me to attend the conference for a reason. From the day Sarah announced the conference I knew that I had to be there. Being that I went through a transition of my own earlier in the year. Earlier this year, I separated from my husband who I had been with since I was 19 and for nearly 18 years. So now, as a new single mother, my budget of course is really none existent and as a single #mompreneur, my budget is actually in the hole.
So I get this strong feeling that I'm supposed to attend this conference but I don't know how. So you know what I did? I faithed it until I made it. I started to claim it out loud and plan to attend the conference. I asked my friends is they wanted to go and they opted not to go instead choosing other vacation options or to attend the awesome Essence Fest. As bad as I wanted to attend Essence Fest, I knew I needed something at this conference that I couldn't get at Essence Fest.
I continued to Faith it. I decided that NO MATTER WHAT, I was attending the conference. With or without my friends. If I had to go alone, your girl was going. I was planning to purchase my ticket in March; however, somehow, water got into my fuel system, destroying the entire system causing me to have to pay to get my car repaired. I had to use the money I was planning to use to purchase my conference ticket and plane ticket on repairing my car.
I said, "Okay lord, you're telling me to go but I don't see the how...but I trust you." In spite of my lack of funds, I started to prepare for my trip. I found two beautiful outfits that were on sale so good, I couldn't pass them up. I decided that I could take those pieces with me to the conference. I was able to get a pair of new shoes for less than $10 that I thought would be good to go with the other pieces I had purchased. I was blessed when a close friend came to me and told me that they would not only pay for my plane ticket to Denver, CO and I could pay them back whenever. They knew I wanted to go to the conference and they also saw how hard I was working to get there in spite of my challenges. Blessing number one.
May came and I worked really hard trying to come up with the money for the trip. I coached new and existing clients, drove Uber and Lyft, and worked really hard. No matter how hard I worked or how much money I made, it seemed that the money always had to go towards something else.
June came and I did the same thing, worked every angle I had to come up with the money but fell short. By the end of June, not seeing how I was going to get to Denver on my budget, I still began to plan. I asked my mother with the conference being 2 1/2 weeks away if she would babysit for me while I was away. I told her about the conference and that I was praying for and she offered to give me the majority of the money for my ticket. Even though she is on a tight budget, she gave me the money to buy my ticket and guess what, once I let go of trying to figure out how to get what I needed for the trip and truly gave it over to God, things started to fall in place. A check I was waiting for came in the mail literally two weeks prior to the conference. I was able to take some of that money and pay my friend back for the plane ticket. I had to pay bills so I still didn't have all of the money I needed for the trip. I continued to trust God and faith it and he came through literally at the last minute. I shared my story of faithing it with a friend a week before leaving and she was so inspired that she surprised me by sending me money. To her it was less that what she wanted to give but to me it was more than what I expected and so greatly appreciated. The conference was from July 13-14 and on July 12th, the day I flew in, I literally had just enough money to pay for my hotel room. By the time I landed in Denver, I got a message from one of my awesome cousins telling me that she sent me something followed by a Cashapp notification from where she had sent me a gift saying this should get you a few meals. As I type this, I have tears welling up in my eyes because God is so good and his word is always good. He told me to go, I trusted him and he made a way. He moved the heart of people who blessed me and because of that, I received a huge blessing and transformational experience. I am forever grateful and in awe at his amazing grace.
I'm sorry for that long testimony but I had to let you know the back story and by being so transparent, I hope that this inspires someone else to faith it until they make with something that they've been letting fear keep them from. I trusted God's guidance, I faithed it by planning for trip I had no idea how I was going to get there, and God showed up in the heart of man and created the path for me to walk into what I feel is the next level of my life and my Glow journey. if this message was for you, be blessed sis/bro, you've got this. Keep believing and believe even when you can't see the end results. God will bless your faithfulness.
So now, the three things I took away from the #Womanevolve conference that changed my life FOREVA!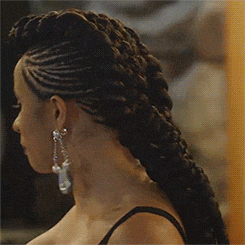 You're not forgotten, you're being twisted for a purpose!
Sometimes we view the challenges in our lives as punishment instead of preparation for the next level in our lives. During the conference, Sarah's husband, Pastor Toure Roberts brought the word hunty. His message was centered around uplifting and empowering the woman. The title of his session was "The Year of the Woman" and he preached that thang. honey he had all of the women up on their feet, yelling in solidarity with his narrative of the NEW EVOLVED WOMAN. In his passionate delivery, he spoke about the challenges that we as women face each day, having to push past trauma's, broken hearts, broken promises, and so much more BUT how we make it look so easy. one of my favorite phrases that he said was, "Some of you have been through the fire but you smell like perfume instead of smoke." He talked about how the challenges we may be facing or the issues we may be dealing with is God's way of twisting us to show us that we will bend but we won't break. We're being twisted and wound up and when it's time he's going you're going to spin out as gold. You have to go through the twisting, and the turning so that you can become anew. You have to be twisted to evolve.

This was so powerful to me because as a new single mother, there have already been many challenges and I know that along this journey I will face many more. Knowing that each challenge is essentially God growing me and preparing me to level up. Each new level will present new challenges; however, I'm equipped with the knowledge and the power that no matter what, he will never leave me nor forsake me and he never said that weapons wouldn't come, he said they wouldn't prosper. Just like I trusted the process of getting to Denver and the conference, we have to trust him in the face of our challenges. Even when we can't see the forest for the trees, we must trust the process, get the lessons that we're meant to get, and faith it until we make it.
I'm a WILD WOMAN who knows her worth!
You had to have been there so understand this full statement and I'll leave some things to the imagination or until you can catch the conference replay on Youtube maybe. Just know that there about about 2200 Wild Women out there who are GOING TO CHANGE THE WORLD!
Okay so the second thing I learned is to truly appreciate and know my worth. I am awesome and it's okay for me to accept that not everyone will be able to appreciate the type of woman I am. This message is for everyone, my brothers and my sisters. Don't settle in any area of your life. Know what you bring to the table and know that there is somebody, some job, some pet, etc out there that was created just for you and the things that were created for you will love, appreciate, and value who you are and what you have to offer. It's okay to have standards and it's okay to create boundaries because without those things you will you could set yourself up for a lifetime of pain and hard lessons. *Clears throat and raises hand*.
So yes, I'm a wild woman, on a mission and I will NEVER SETTLE! Not in my business, not with my expectations for my children, not on anything...well, unless it's settling on the price for new house that I'm going to be buying (claiming it). If it's not mutually beneficial, it's okay to say no thanks.
The last lesson I would like to share and I hope it inspires you is to stop sitting on your gifts and talents. Somebody reading this is letting fear hold you back. You know that you have something that you're supposed to be doing but you're afraid to just step out and do it. You have a gift deep down inside of you that you're being selfish with. Because of your fear, someone else's breakthrough is being delayed. If God can't trust you to trust him and step out on faith, he's going to move on to the next person who will because your fear will not keep the next person from receiving what God has for them. It's time that you evolve. It's time for you to stop allowing fear to paralyze you. It's time for you to step into the person you were created to be. Will it be scary? Yes! But guess what, if it were going to be easy, it wouldn't be worth it. Sarah talked about how people compliment her on how easy she makes delivering the word look and she confirmed that its' not easy, in fact, it's one of the hardest things she has to do but she knows that she HAS to do it because God has called her to do it. She does it afraid.
My message to you today is to do it afraid. Fear will creep up but it doesn't have to win. Fear is just false evidence appearing real. You don't know what's on the other side until you make it on the other side. During my Denver trip, I got to see the Rockies and one of the sights in particular required that walk a steep trail which was about a mile to the mountain and then we had to climb a few rocks to see beautiful views on the other side. The whole trip to the mountain I had to push myself past fatigue and fear. While climbing I had to push myself past fear. Once at the top and looking out at God's beautiful creation, the fear went away. You can do the same thing in your life, climb that mountain of fear so that you don't miss out on the beautiful life God has for you on the other side.
DO IT AFRAID!
I know that this is a long post and for those of you who make it all the way through, you rock! I wanted to share this with ya'll but also give the full picture of my experience getting to the conference and what I took away from the conference. Even though I've share what appears to be a lot, THIS TILL DOES NOT SUM UP IN WORDS HOW AHHHHMMMAAAZZZING this conference was. The registration for 2019 is open so go ahead and get your tickets! I know that next year we're going to get twisted up on a whole new level!
To close it out, trust the process, know your worth and don't settle for anything less than you deserve, and DO IT AFRAID!
Hi my name is Kendra Garcia and I done went to Woman Evolve and chillllle I evolved!
#womanevolve #sarahjakesroberts #evolve #growth #glowup #stylistjbolin #angelarye #transformation #change #lifelessons #doitafraid #lifechanging