I got 99 problems but…Distraction is one!
So I've been sitting here trying to write this blog for about 2 hours. The delay is not due to lack of content but due to lack of concentration. As a mother of 5 children, my day to day to some my seem overwhelming but to me it's life. I start my days at 6am and sometimes earlier depending on our schedule for that day. Yes, even during the summer break we start our day early.
After we get dressed, I grab my mommy fuel (coffee) and the kids grab their things we head out of the door at 7am. The first stop is taking my 14 year old to football practice which he has to be there by 7:15. Then to take two of the kids to summer camp. After the summer camp drop-off I have to brave the traffic and head into downtown to drop my 17 year old off at his summer internship. Then it's back to my side of town which is about 25 to 30 minutes away from downtown to pick up my 14 year old from football practice and drop him off at summer camp.
once all of the drop offs are complete, I then head into work until about 4:30/5pm at which point I leave to fight traffic, pick everyone up (which I'm usually rushing to do on time). After picking the kids up, most days we have to then head to track practice until about 7:30pm. After track practice we head home, prepare dinner, take baths, chat a little, eat, and then the kids wind down for the night.
By this time, I'm tired but I have to push through because I'm also a business owner so usually at night after the kids are in bed is the best time for me to work on my business task, following up with clients, setting up coaching sessions, creating content, and just getting inspired.
It's pretty clear to see why my energy level is drained most of the time but most importantly I have to put strategies in place to ensure that I can do the work to grow my business and make an impact.
Here are the 3 key things that I do to prevent overwhelm, stay productive, and focused on my goals.
Rule #1 Organization
It is imperative that you create an organization system that works for YOU. Too often we try to use other people's systems and those don't work for you because you're not totally invested in making it work. Create a system that works best for you and improve your chances of being successful. This is the key whether you're a mom or not. You must create systems that will help you stay on task and keep your goals at the forefront.
For me I am a heavy user of my google calendar which I also sync with my client management system. This allows me to keep my coaching sessions and personal obligations from coinciding. Every morning after prayer and meditation I check my calendar to see what coaching sessions I have scheduled, what doctor or other appointments we have on the agenda. Some people plan every detail down to what they will be doing every hour of the day and if you're really OCD about it, every minute. I'm not there yet but I am a huge advocate of having a calendar/planner that you have access to every day and what better way to do this than the calendar on your phone. We always have our phones. I also utilize the notifications to keep me in the know on what's to come because when you're busy running from place to place, it's way to forget an upcoming event. So create an organization system that will help you be as productive with your time as possible.
Rule #2 Just Say No To Social Media
If you're like me, you utilize social media to not only connect with your friends and family but also to grow your business. It is soooooo hard not to get distracted by the fashionista's OOD (outfit of the day). What about that influencers awesome Insta feed…I know, I get caught up to. Before you know it, you'll be like me, up at 1am writing a blog post you sat down at 10pm to write but you got caught up going down the rabbit hole that is Instagram.
To prevent this from happening, schedule your social media time. As a business owner, I love to review the insights on my social media accounts to see what's working and to learn more about my audience so it is imperative that I make time to review my social media. It is not imperative that I go to the popular page and get caught up watching videos of cute babies, lol. So to be more strategic, I have blocked out time in the day to check social media and when that time is up, that time is up. Social media when used correctly is an awesome tool to use to connect with others and grow your business; however, you must have a healthy relationship with it and be proactive when using it.
If you too suffer from social media overload, just say no sis, we've got this! We can beat this monster, lol. Healthy boundaries.
Rule #3 Just do it!
This is one of my key go to mindsets that helps me push through any opposition to accomplish my goals and complete my task. When I'm tired but there are still things that need to be completed, like this blog, I tell myself to "just do it".
When I want to just lay down and meet the back of my eyelids but my room is a mess and I told myself I would not go to bed mad, I tell myself to just do it. I get up, pick up, and I feel better about my environment and sleep better.
My motto is "just do it!" No more letting opposition hold you back. You have the power. Your mind is the power and you control you mental perseverance. The key to accomplishing anything is mindset. If you have a mindset that you're going to push through no matter what, you will be successful because you will never quite and you won't give in until you win.
So to recap, what did we learn here today? Organization is the key but YOUR version of what organization looks like for you. Say no to IG sis, be strong! Don't let the aesthetics pull you in, I know you love a good glow up pic, so do I. Be proactive about when and how you're going to use social media so that that it doesn't become a distraction. Lastly, JUST DO IT! If you want to create that business, just do it! What about that podcast you want to start? Just do it! You want to go back to school, just do it! You want to change your life and create a better life, just do it!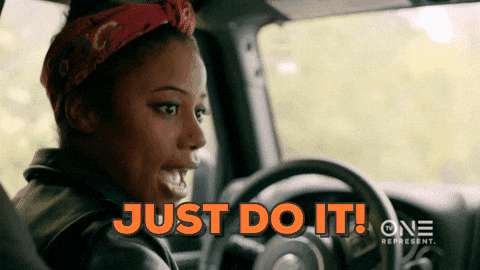 You've got this, we've got this. JUST DO IT!
You're friend in your head and in real life too,
Life Strategist KG
#goals #organization #effectivegoalplanning #momprenuer #businessgoals #lifecoaching #businesscoaching #justdoit #beyonce #blueivy #goalplanning #success #successtips